CTL48 Data Sheet
The Model CTL48‐P24‐C6‐T1‐BX shown below is typical and representative of the CTL48 Models. For more information on specifying a cantilevered rotation fixture, see the SMALL SATELLITE FIXTURE OPTIONS page and SMALL SATELLITE FIXTURE CREATING A MODEL NUMBER pdf.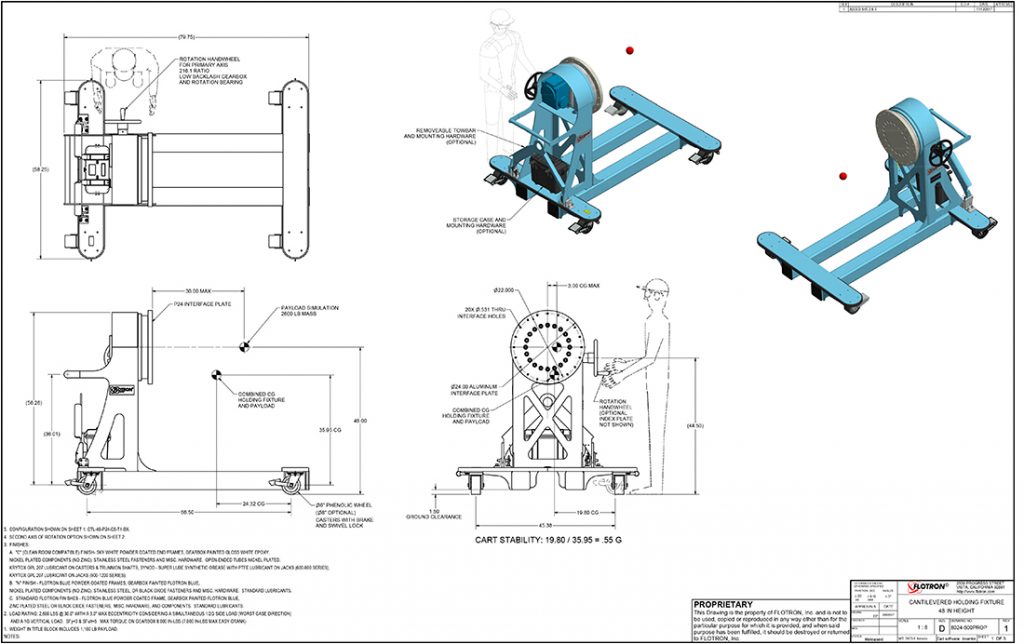 Product Features:
Safety Factor: 3
Rated Load Capacity: 2,600 lbs with CG located at 30" from interface plate and 3.0" from rotation centerline.
Operating Temperature: +32 to +104 °F (0 to +40 °C). Contact factory for special applications with extended operating temperatures.
Trunnion Interface/Mount/Clamp Options: Ø24" Circular Interface Plate with 20X through holes for ½" fasteners on Ø22" bolt circle.
Gearbox: 60:1 ratio with 12″ diameter crank.
Casters: Heavy duty 6″ diameter x 3″ wide wheel with phenolic tread, sealed swivel bearing. Tech‐lock brake and swivel locks.
Materials: Steel construction.
Finish: Flotron Blue powder coat with selected parts zinc plated.
Optional Index Plate.
Optional Casters.
Optional Tow Bar.
Optional Tool Box.
Optional finishes for clean room compatibility.
Optional Ground Lug and Drag Chain for use in electrostatically protected areas (EPA's).
For more about Small Satellite Fixture Options click here.
All data presented is based on no modifications to the product.
As Flotron is constantly improving products and methods of manufacturing, we reserve the right to modify and/or change design or specifications without notice. Please contact Flotron for verification of critical dimensions and specifications.
For Small Satellite Fixture – Creating a Model Number pdf click here.
For clarification of terms or phrases, please see the Holding Fixtures Definitions page.