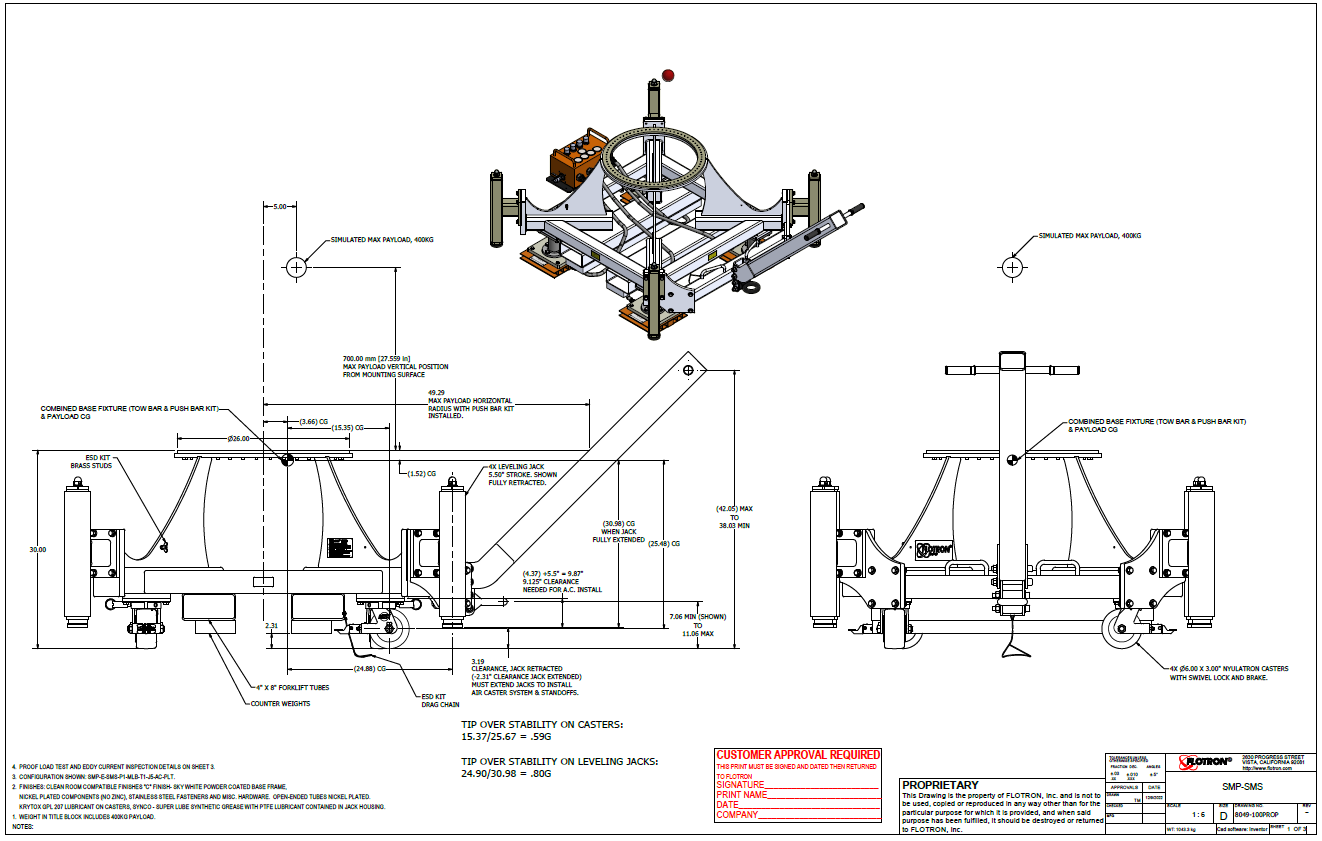 SMP-SMS
Load Rating: 2,000 lbs @ 50"
Swing Radius: N/A
Max Torque: N/A
Easy Crank: N/A
To receive a CAD model or a quotation:
Flotron's Satellite Mobile Stand (SMS) offers an ergonomic mobile stand for small satellite assembly and test.
The standard interface plane height is 30" above the floor. Custom interface heights are available but stability and keep out zones will limit the design. Forklift tubes are standard on the base frame, tie-down rings, tow receptacles, and leveling jacks available options.
Product Features
Safety Factor:

3 for Yield & 5 for Ultimate

Rated Load Capacity:

Dynamic, 0″ to 50″ vertically offset CG from interface: 2,000 lbs. (907 kg.)

Operating Temperature:

+32 to +104 °F (0 to +40 °C).

Contact factory for special applications with extended operating temperatures.

Materials:

Steel construction.

Thru Access:

Ø12" to Ø22" thru access available.
Standard Configuration (For additional options click on "Configure a Flotron Fixture" button above or view dimensional drawing for detailed information)
Finishes:

CLASS 10K clean room compatible finish – sky white powder coated frame, electro-less nickel-plated interface ring, leveling jacks and caster bodies, and stainless steel fasteners and miscellaneous hardware. The casters swivel bearings are lubricated with krytox GPL207 and the unexposed leveling jack screws are lubricated with Synco Super Lube.

Casters:

8" diameter X 3" wide Nylatron wheels swivel casters with brakes.
As Flotron is constantly improving products and methods of manufacturing, we reserve the right to modify and/or change design or specifications without notice. Please contact Flotron for verification of critical dimensions and specifications.
For SMP-MS Series - Creating a Model Number pdf click here.
For clarification of terms or phrases, please see the Holding Fixtures Definitions page.